Read this article if you're an HR person in IT or an eager-beaver student looking to get hired.
Here at UPDIVISION, we are a small but feisty team of web developers who are always out to find brilliant young minds who will grow working with us. This is the story of how we found a few of them this year.
Ahead of the Game: What to Do Before the Event
The best places to meet lots of students looking to start a career are job fairs. The two largest technical Bucharest universities hold student job fairs every year in March. We first took part in the 2017 edition, but back then we didn't use it to the fullest potential. But this year was different. This time we went full throttle and had really good results. Here is what we did.
Before preparing for the actual event, you might want to do a bit of soul-searching. Make sure you:
have clear objectives – what do you want to achieve: Find new trainees? Raise your profile? Network? Hook rising talent?

have a follow-up strategy: once you've attracted the right people, keep them interested and have a clear application procedure and screening

send the right people to represent your company at the fair – developers and past trainees who can share their experience are the best picks
Now that you have a clear picture of what you want to get out of the event and what you're willing to do for it, here's the nitty-gritty.
(1) Contact the organizers
We contacted the students' representatives in computer-related departments: Mario Grig Jr Oprea of the Faculty of Automatic Control and Computers Students' League (Politehnica University of Bucharest) and Laura Ghimpeteanu of the Faculty of Mathematics and Computer Science Students' Association (University of Bucharest).
(2) Choose the right package
Next, we had to decide on the best package for each of the fairs. Here's the package presentation we got from the University event organizers. We ended up choosing the BRONZE package for the Politehnica job fair for 600 euros and the 450-euro package at the University of Bucharest event. What this meant:
| | | |
| --- | --- | --- |
| Place | University of Bucharest | Politehnica |
| Cost | €450 | €600 |
| Stand | 2 m2 | 2-3 m2 |
| Duration | 1 of 3 days | 2 of 2 days |
| Hand-out freebies? | Yes | Yes |
| Presentation? | Yes (15 minutes) | No |
| Featured in event promo? | Yes | Yes (BRONZE partner) |
Think about how much you're willing to invest in this event versus what you expect to gain from it. You can do a lot with a little.
(3) Stand out from the crowd (I): Craft your message
We wanted to have an exciting presence that people remembered. So, we came up with a character representing our values: Koda, Yoda's smarter, geekier brother, who ended up a programmer – a Coding Master, not a Jedi Master, but just as cool.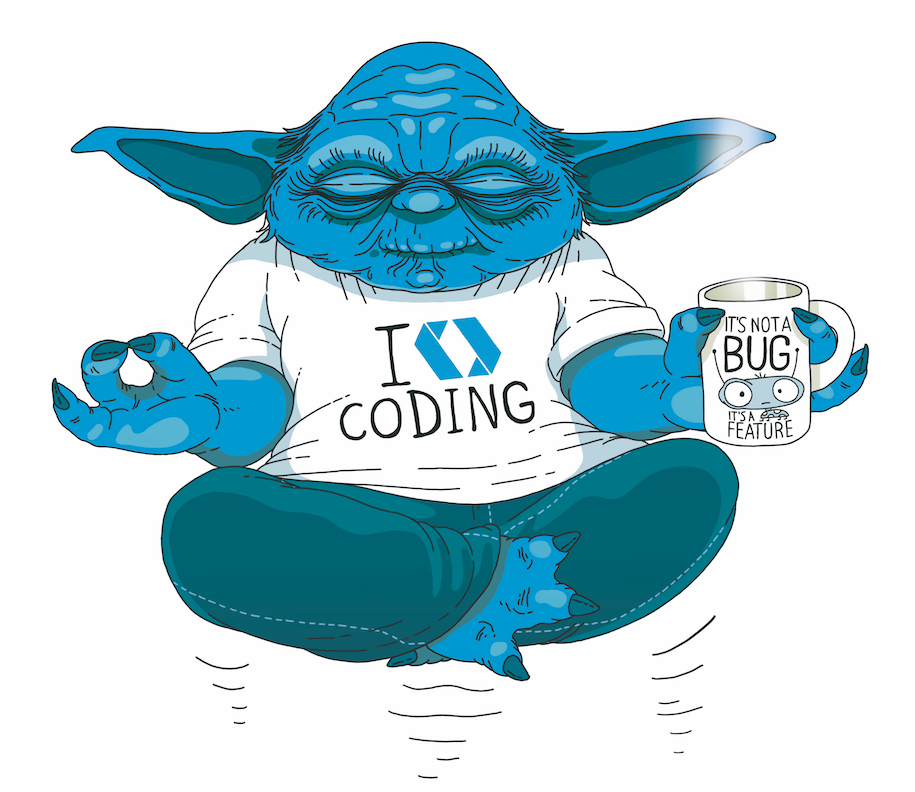 Koda charging up on The (Coding) Force
Our message: Why work for the Empire (that is, big, boring corporations) when you could be a Rebel (that is, work for UPDIVISION and grow a strong, wise programmer the Jedi way)? Don't be a boring stormtrooper with a pixel pusher job, be part of a team where everyone's having fun being themselves.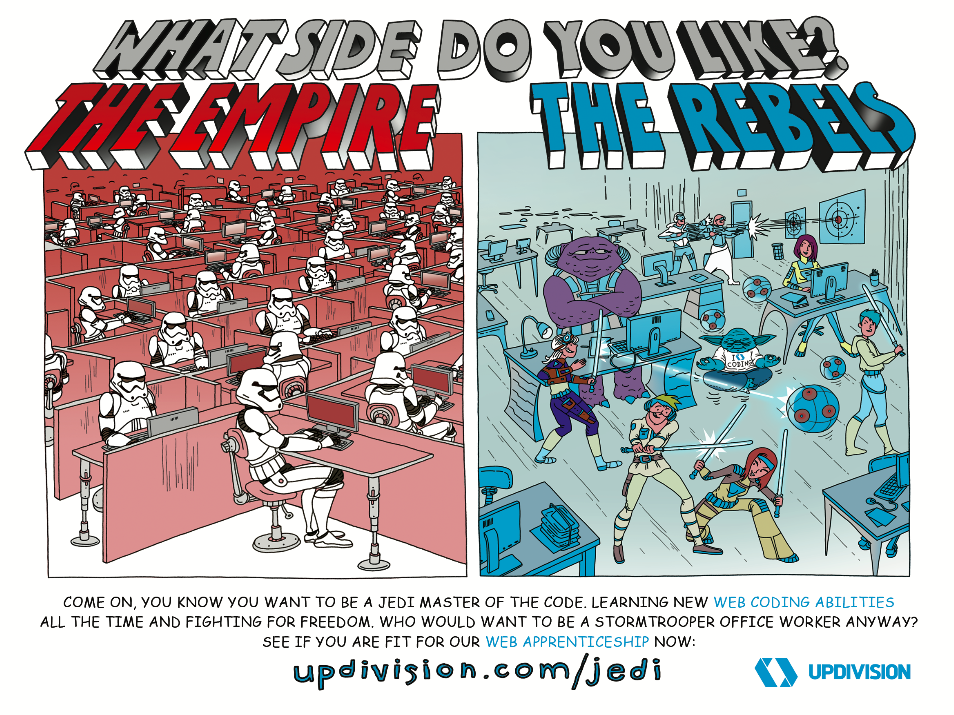 Red or Blue? Choose wisely, Neo. Oh wait, this isn't the Matrix fanclub?
We also wanted to give a face to the concept and define our visual identity. To give you a sneak-peak at the creative process, here's the sketch behind the cartoon above: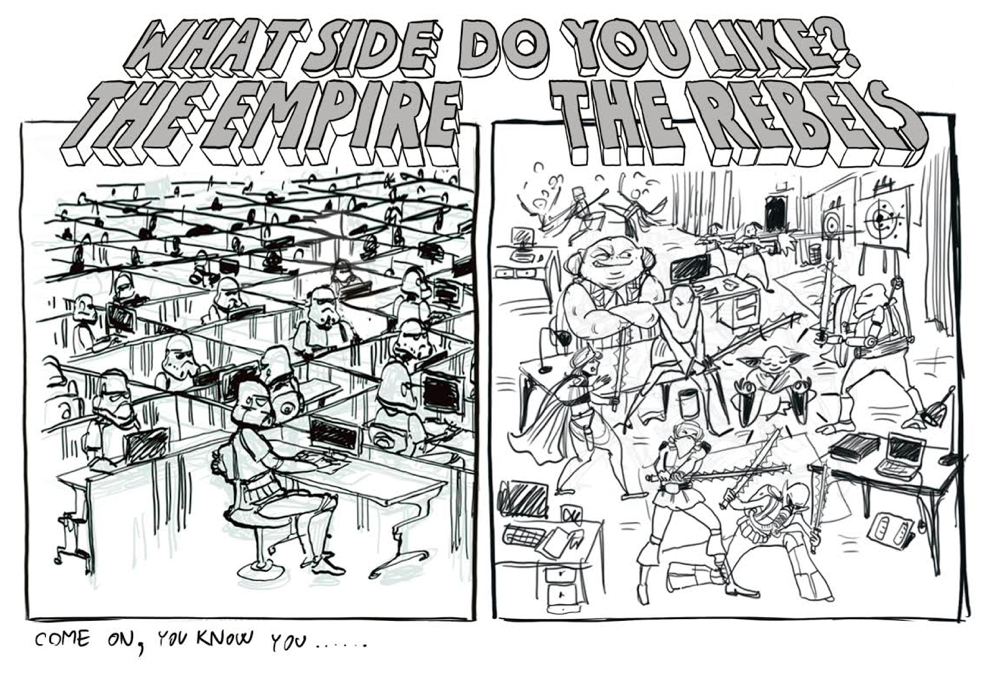 We printed out flyers, stickers, roll-up banners. We had:
1 roll-up banner
500 flyers
500 stickers
3 big posters
We ran out of freebies before the last day at the Politehnica job fair, so we had to print out half as many stickers and fliers. We gave them all away.
We even made our own T-shirts: 2 sets of 29, each with its own personalized design. Here's how they looked (check out our Koda roll-up):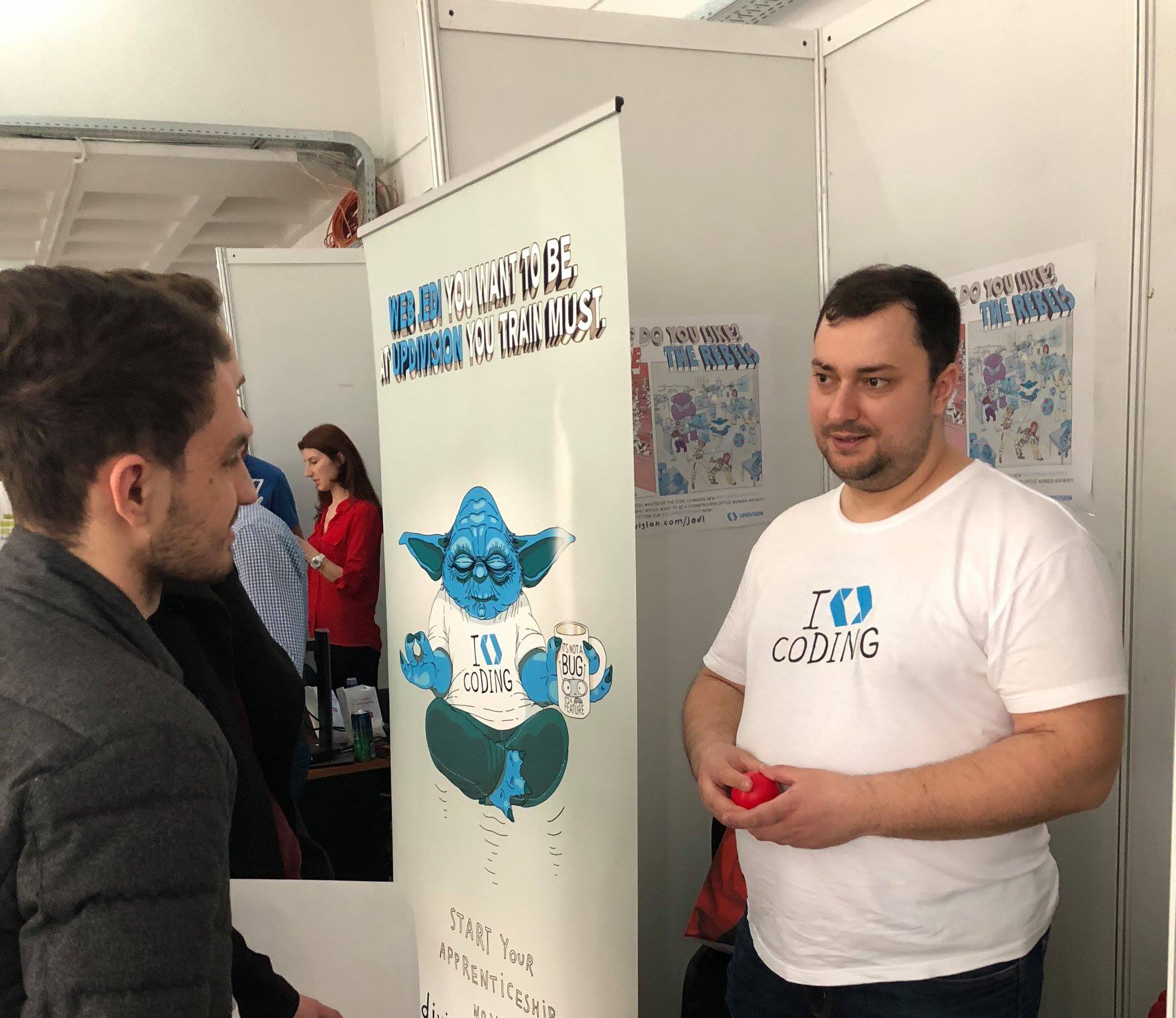 Alin and Koda, both looking dapper in their logo T-shirts
(4) Stand out from the crowd (II): Location
Personality goes a long way. But you also need to make sure you're physically visible and in people's way.
At the Politehnica job fair (March 10th and 11th), we were one in tens of employers, most of them big multinational corporations. We also had a stand on the first floor, while most of the other stands were on the ground floor, a huge place already. Surprisingly, a lot of people dropped by our stand. What's more, because they actually made an effort to reach us, they were more likely to be really interested from the get-go. Here's the map to the Politehnica job fair.
At the University job fair (March 7th), a smaller event, our stand was at 'LOC 2' on the map here. This wasn't a 'VIP spot', but it ended up being even better, since everyone had to file through the corridor we were in at one point or another. People stopped in front of our stand to talk, ask questions, and get freebies. We bottlenecked the entire place. It was great. Lesson learned: location, location, location.
Looking back on it, we should have spent the full 3 days at the University fair since even with just one day there, that's where most of our applicants came from. The Politehnica one was a mixed bag: our location wasn't that great (we waited too much before deciding on location), and many of the people there simply weren't interested in web dev. But we got the eager beavers.
(5) Things take time (no, really)
Something you should keep in mind from the get-go is that everything takes longer than you think. As a rule of thumb, twice as much. So, plan ahead and be careful about the timing. This is how long each of the stages took us:
Contact student representatives: 5 weeks before

Sign contracts: 4 weeks before

Craft message: 5 weeks before (took about a week)

Visuals: 2 weeks before (took about 3 weeks from concept to final versions)

Print out promo material: 1 week before
Recap
timing: plan ahead and start early
contact the students' representatives
choose the right package
location: be strategic about where you set up your stand
stand out from the crowd: craft a message (get creative!)
make sure you have enough promo materials/freebies
pick the right people to represent you (don't forget to feed them)
The Job Fair: Close Encounters of the Third Kind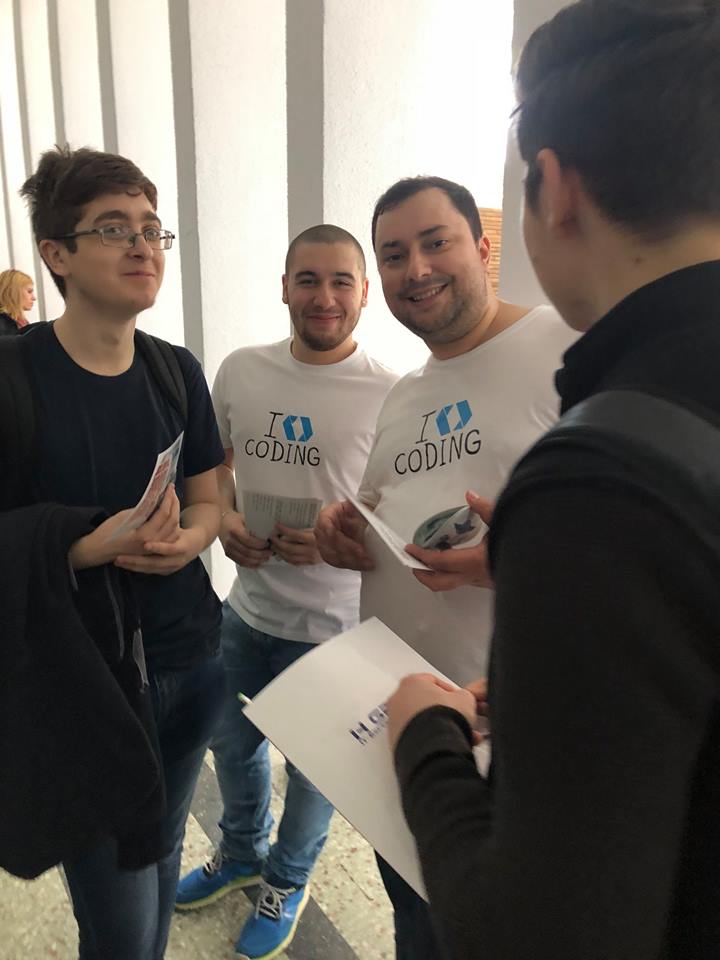 Gabi and Alin handing out flyers and being their charming selves
At both events, students swarmed to our stand. We told them our story, who we are, what we do, what our mission is, and we presented some of our projects. We did this a couple hundred times a day with each student or group of students who came by our stand. Which is why you need to make sure you're sending the right people and that they have a story they can tell over and over again. So, keep it short and sweet (and get your story straight beforehand). We also handed out a ton of freebies. They're never enough.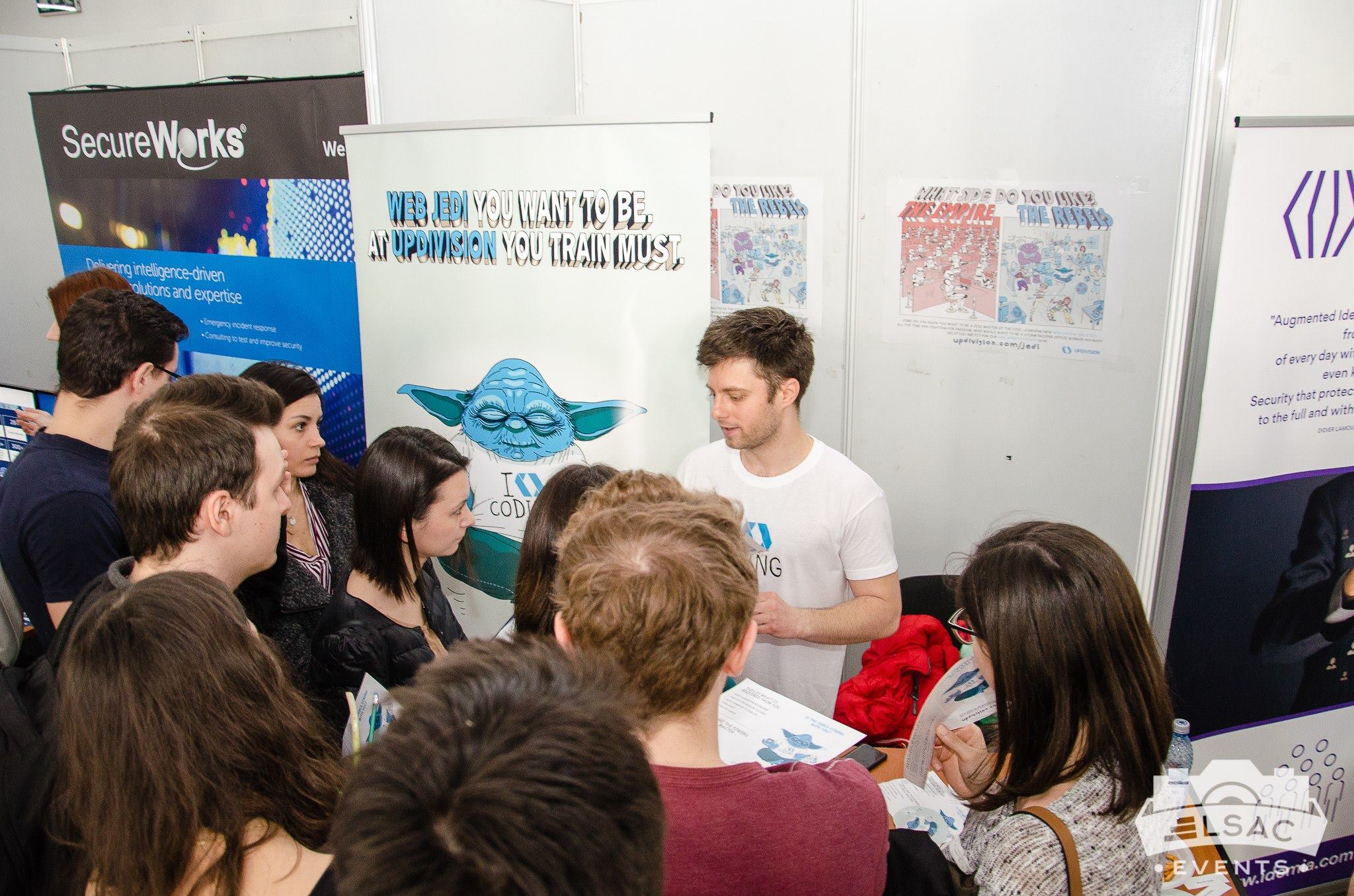 Andrei preaching the good word to an eager crowd
Our pitch to the students
Web Dev – the whats, whys, and hows: The web isn't just about presentation websites – that's so 2008. For the past few years, web sites have been expanding to full-blown applications that can rival the functionality of any desktop app. Web development has become the new desktop software dev. It's even playing a huge role in mobile dev. Going to the cloud for everything comes naturally. And you can build fairly complex mobile apps using just web technologies.
Web dev is an exciting area where anything can happen. It's an altruistic community who are all about freely sharing code, always testing and pushing the boundaries of the possible. Web dev is the new desktop, the new mobile, the new frontier of innovation. And you can be part of it.
Who we are: a young team of web developers changing the world one app at a time. We are small, friendly, and flexible. Our apps disrupt traditional industries and move entire business processes to the cloud. We work with the latest technologies, always.
We like to give back to the IT community so we put out open source code. And we really care about team spirit and our team values: we are open-minded, friendly, agile. Here at UPDIVISION, we're not just pickers, but also growers of new talent.
What it takes to be an apprentice: We don't just want interns, we want apprentices. Students who want to learn in a stimulating work environment. We want students who want to grow and work with us long-term. Build a career as a software engineer. We're flexible and understanding with students: we accommodate their university schedule (courses, labs, exam sessions).
How you start off: you get three months to learn the basics of web programming by working on tutorial projects with friendly senior programmers mentoring the juniors. After that, if you've proven yourself, you get to work on real-world projects.
You don't need to wait for the next job fair. If you're a student reading this and want to become an apprentice at UPDIVISION, drop us an email.
Do It Your Way. But Don't Try Too Hard
This is not the only way to build a job fair presence, though. At the big Politehnica event, we saw other approaches, too. A company held a sweepstakes and their stand was packed. Sure, the chance to win a little something always gets people. It depends on whom you want to attract. Other companies tried the chill-out strategy. They turned their stand in a lounge area with beanbags and everything. Not a soul in sight.
The only things we gave away was a smart flyer and a slick sticker for each. Other companies gave out popcorn or candy. You don't need to sweet-tooth people into coming to your stand. If you deliver the goods, people will come to you. You don't need any gimmicks to stand out from the crowd. Just be in line with your values and provide value (it doesn't need to be material). We got the most bang for our buck by having a smart over-all strategy.
Recap
smile, talk to people (a lot)

hand out freebies

don't be afraid to start conversations

have a clear message/script and stick to it

keep it short, you have hundreds of people to talk to

have a clear pathway for people who want to apply
The Aftermath: Clone Cadets or Padawans?
Level 1: How We Picked the Padawans
The idea behind the way we recruited new talent was taking the CV out of the equation. It's not experience we wanted, but potential and being able to hit the ground running. And we wanted to give everyone the same starting chance. So, we came up with an online test everyone who wanted to work for us had to take. It had basic algorithmic and logic problems, things that could be solved without knowing a particular programming language.
After the days at the fair, we constantly checked the link people had to go to for the test (the link was on the flyers we handed out). After the 2017 job fairs, we had 21 students taking the test and 3 who passed it. We ended up hiring 2 trainees. In 2018, 63 students took the test and 19 passed it. Out of those, we hired 3 trainees. How did we choose them?
Level 2: Padawan Apprentice for a Day
At UPDIVISION, we want the best people as trainees. But we also want people who fit in with our values. So, we had them come by threes to have the full experience of working with us for a day.
This meant everything from working on a project together to chilling with pizza in the common area. They had to finish an app that actually worked by the end of the day using a technology they didn't know before. The students were encouraged to ask questions and talk to people – the friendlier you are, the more likely you are to fit in with our team. Everyone in our team was available to answer any and all questions.
At the end of the day, we had two-way feedback sessions, where the students shared their first impressions and we shared ours. But in the end, there can be only one. Or three :)
So in the end, after taking them through the entire ordeal, we settled on three students we hired as trainees and who stayed to start their web dev careers with us. Wise choice, young padawans. Wise choice, team (time proved us right).
Conclusions
Taking part in student job fairs is really the best way to get raw talent. It beats posting ads on social media or job portals any day. But you have to put in some effort into building a presence. You want to stand out and make your message stick in people's minds.
Don't worry too much about it, though. People who are really interested and with the right attitude will want to see all the company stands in a fair. You've just got to have enough people (and the right ones) to talk to all of them.
And you've got to deliver a message that's in line with what you actually stand for. You don't need to try too hard to look cool or buy off the crowd. People can see through any gimmick.
Recap of recaps
plan ahead

contact the organizers

contract a stand

have enough promotional ammo

have a short and sweet story to tell

on the day, show up with the right people

talk to students, smile, hand out freebies

have a clear plan for getting people to apply

have a system to test, screen (and win over) the trainees

it'll all be fine.
Stay tuned for part 2 of this article on how we trained our interns.
If you liked this article subscribe and get an email when we publish new, juicy stuff. We hate spammers, so we don't spam.